Maths Newsletter March 2017
March Newsletter 2017



Welcome to the March Newsletter
We are delighted to announce that Ms Margaret Fogarty has joined the Maths Week team. Margaret brings a wide range of skills from IT industry and teaching and takes on the role of programme manager.  Margaret will build on the achievements of Claire Flynn who did such great work last year and has since returned to the UK.

If you have any information you think is suitable for our monthly newsletters please email mathsweek@wit.ie

Brexit

The UK government has now triggered article 50 formally beginning the process of withdrawing from the European Union. It is uncertain what the final outcomes will be. Obviously there is concern on this island that barriers to movement and trade might result. A strong network of people on this island has been cooperating to promote maths since the foundation of Maths Week in 2006. Maths is vital for the economies of both parts of this island. It is important that strong links forged through maths promotion (and education in general) be nurtured and strengthened. We will work hard to ensure continued growth of Maths Week in both parts of the island and continued development of cross-border links.

BREXIT Referendum from Queens Belfast
The Queen's Brexit Resource Guide, comprises of articles by Queen's academics on the subject of Brexit.
To view these article click here
or see http://www.qub.ie/home/EUReferendum/Brexit-resource/
If you have any events or activities that you think would be of interest to the mathematics or maths education community why not get in touch at mathsweek@wit.ie
Women in Maths
Colm Mulcahy is professor of maths at Spelman College Atlanta, Georgia and creator of the Annals of Irish Mathematics.His March Blog will be available here tomorrow (Friday). Colm visited Ireland earlier in March, giving talks at UCC and WIT on Pioneering Irish women Mathematicians. The subject of his February blog was the "First Irish Woman with a doctorate in Maths"
According to Colm:
"The herstory of women in maths in Ireland is murky, with little organised effort having been made to gather, synthesise and share the relevant information.  The "Pioneering Women in Mathematics in Ireland" lecture given at WIT in the middle of March was an attempt to reverse that situation. 
The talk highlighted dozens of women many of whom have been forgotten by history. In Victorian times, women had very little access to third level education in STEM areas, and even those with mathematical talent who did manage to get degrees in maths had minimal career options.  Several ended up in astronomy, some more in teaching, and a handful have made it to Wikipedia ( https://en.wikipedia.org/wiki/Category:Irish_women_mathematicians) and the MacTutor History of Mathematics Archive
(http://www-groups.dcs.st-and.ac.uk/history/Indexes/Women.html) but in many cases their stories are beyond our reach, seemingly undocumented or forgotten.  Even women who graduated in the first half of the 20th century "had their work cut out for them"; for instance, often being obliged to resign from employment if they married or had children, and many of those mathematicians are largely invisible to us today.
Yet, thanks to the internet and the myriad of genealogical resources now available to us all, some of these overlooked stories are being unearthed. Old university calendars and the Davis Historical Archive ( http://www-groups.dcs.st-and.ac.uk/history/Davis/index.html) are also a great help.
Notable early examples are Mary and Alice Boole (wife and daughter of Queen's College Cork's George Boole), Sophie Bryant (the first woman to have a paper published in the Proceedings of the London Mathematical Society, in 1884), and Marjorie Long (who translated a key book on the mathematics of relativity from Italian in the 1920s).  The mid 20th century highlights are undoubtedly Sheila Tinney (the first Irish born-and-raised woman to get doctorate in maths science, from Edinburgh, in 1941), Barbara Yates (currently believed to be the first Irish born-and-raised woman to get doctorate in pure maths, from Aberdeen in 1953) and Siobhan Vernon (the first Irish born-and-bred woman to get a doctorate in pure maths in Ireland, from UCC in 1964).  Late 20th century successes include Nóra Ní Chuív (a granddaughter of Eamon de Valera), Elizabeth Oldham (maths ed expert at TCD) and statistician Sally Mclean (who has supervised almost 40 PhD students at the University of Ulster).

Today we live in a very different world.  A wide diversity of careers is open to women in Ireland with advanced maths training, from teaching and academia, to business and industry, and leadership positions are also increasingly within reach.  Algebraist Rachel Quinlan is now head of the school of maths, stats & applied maths at NUIG, statistician Catherine Comiskey is head of the school of nursing & midwifery at TCD, and Áine Ní Shé is maths department head at Cork Institute of Technology. Starting with a PhD in fluid dynamics, Sandra Collins went on to work for Ericsson, SFI and the RIA, and is now Director of the National Library.

Yet, as the speaker reminded his audience, "We have a small population but half of it is female. There is much work to be done."

One of the upshots of taking this story around the country—earlier talks have been given at UL, UCD and UCC—is that audience members sometimes come forward with their own family stories of note.  This happened at WIT when Hugh Dobbs, veteran Newtown School teacher, revealed that Elizabeth & Cecily Nevill, TCD maths scholars from the early 1940s, were his mother and aunt respectively. The speaker was very happy to hear this, as he'd been stuck trying to figure out what happened to those two after their graduation.

On a related topic, Aoibhínn Ní Shuilleabháin's recent article in the Irish Times presents findings that question the current preoccupation of the importance of female STEM role models for girls. Read it here
(http://www.irishtimes.com/news/science/is-the-importance-of-female-role-models-in-science-overstated-1.3008212)


News:

Antrim Girl donates 3 D Prints from Kidney Transplant
An Antrim girl donates 3D prints of 'world first' kidney transplant using 3D printing to the London Science Museum
A little girl from Northern Ireland who had the world's first kidney transplant using 3D printing has donated the lifesaving 3D models to the Science Museum in London.  The team created models of Lucy's 10-kilogram abdomen and her father Chris's kidney (the donor) to help surgeons accurately plan the complex surgery and minimise any risks.
This meant any issues involved with transplanting an adult-sized donor kidney into a child's small abdomen could be identified in advance.
It was the first time in the world that 3D printing was used to assist kidney transplant surgery involving an adult donor and child recipient.
Lucy and Chris have now donated the 3D models to the Science Museum, where they will be on permanent display as part of the museum's new medicine gallery, which opens in 2019. It will showcase cutting-edge health innovations, like 3D printing, alongside medical breakthroughs throughout history. Read more here
http://www.belfasttelegraph.co.uk/news/northern-ireland/antrim-girl-donates-3d-prints-of-world-first-kidney-op-to-london-science-museum-35577097.html

Children and Young People's Strategy 2017 - 2027 - Closing Date 31 March
The Department of Education Northern Ireland has launched a public consultation on the Executive Children and Young People's Strategy 2017 - 2027.
The previous ten year strategy for children and young people 2006-2016 'Our Children and Young People – Our Pledge' set out a shared vision that all children and young people would thrive and look forward with confidence to the future.
This consultation document outlines the work that has taken place to build on that strategy and develop, in partnership with a wide range of stakeholders and children and young people, the new Executive Strategy for Children and Young People.  It sets out the aims and objectives of the  Strategy and its anticipated outcomes.
The views are sought on the range of questions set out in the response questionnaire.
The consultation documents, including the young people's version of the Strategy, have been sent to all schools and youth services organisations inviting the views of children and young
Koulla Yiasouma, Northern Ireland Commissioner for Children and Young People's YouTube video welcoming the launch of the public consultation on the Executive Children and Young People's Strategy 2017 - 2027.
https://www.youtube.com/watch?v=U8zeEuT-AV4&feature=youtu.be

The consultation period has run from Monday 19 December 2016 and finishes tomorrow at 5pm on Friday 31 March 2017 inclusive. Please note that responses received after the deadline cannot be considered. See more here
https://www.education-ni.gov.uk/consultations/children-and-young-peoples-strategy-2017-2027

NISRA Northern Ireland Statistics Website


A new NISRA website was launched on the 22 March 2017 which will enable improved searching for statistics in Northern Ireland.  Its navigational tools allow for a much improved experience when searching for information under each of the statistical themes.  Furthermore, the new NISRA website is now supported on all devices (smartphones, tablets and PCs) allowing a more user friendly experience. Importantly, the website is at BETA testing stage and all feedback regarding any usability and functionality improvements or changes would be greatly appreciated.  You can see more here:
https://www.nisra.gov.uk/news/new-nisra-website-has-been-launched-today

They have also produced an nice infographic showing key statistics you can download it here
https://www.nisra.gov.uk/sites/nisra.gov.uk/files/publications/NISRA%20Homepage%20summary%20stats%20V3.10Green.pdf
Maths Counts 2017 Maynooth
Maths Counts conference for all those interested in maths education took place in Maynooth earlier in March attracting hundreds of teachers. 
It was an opportunity for participants to meet with other teachers and learn about the art of structured problem-solving for Junior and Senior Cycle. The conference also showcased the work of teachers who have engaged in Lesson Study with the Maths Development Team. The keynote event was Professor Akihiko Takahashi teaching live, structured-problem-solving lessons focusing on "Hands-on, Open-ended Approach".
See here for report and resources from the conference
http://www.projectmaths.ie/for-teachers/conferences/maths-counts-2017/

Back to Top

Team Maths Winners
Congratulations to Christian Brothers' College Cork who are IMTA Team Maths Winners 2017 -
Pictured here receiving the trophy earlier this month. Congratulations to all teams and their teachers that took part and well done to all the organisers.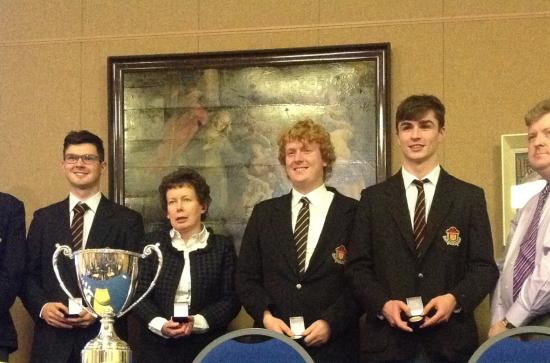 The winning Christian's team are pictured here with their teacher Ann Barry-Murphy and Brendan O'Sullivan (IMTA President). (acknowledgement: Maynooth University https://www.maynoothuniversity.ie/mathematics-and-statistics/news/team-maths-2017-results


John Hooper Medal for Statistics Results 2017
The seventh John Hooper Medal for Statistics competition was a great success. Students demonstrated a great level of industry and ingenuity.  As a result, 255 posters were submitted to the CSO. 15 of 255 posters were then shortlisted and the following winners were announced:
First Prize
Students: Ella Brennan, Jessie Oyenuga
School: Loreto Secondary School, Kilkenny
Title: Don't Ditch Your Dairy
Second Prize
Students: Bronagh Cassidy, Aoife Lowth, Rachel Campbell
School: St. Vincent's Secondary School, Dundalk, Co Louth
Title: ARIA or Manual? - A statistical analysis into which method of grading retinal  images for diabetic retinopathy is the most effective.
Third Prize
Students: Lynn Sweetnam, Eva Murphy
School: Bandon Grammar School, Bandon, Co Cork
Title: The Statistical Analysis of the Birthdates of Thoroughbred Racehorses and the Subsequent Impact of their Racing Career.
Students from the following schools received an order of merit for their posters:
Athlone Community College, Co Westmeath
Coláiste Muire, Ennis, Co Clare
St. Vincent's Secondary School Dundalk, Co Louth
Scoil Chonglais, Baltinglass, Co Wicklow
The Abbey School, Co. Tipperary
Dominican College, Dublin 9
Mercy Mounthawk Secondary School, Tralee, Co Kerry 
Bandon Grammar School, Co Cork
Blackrock College, Dublin
To view the above submissions and further information pertaining to John Hooper Medal for Statistics Results 2017, Click here or visit the following link:
http://www.cso.ie/en/interactivezone/johnhoopermedalforstatisticscompetition/johnhoopermedalforstatistics2017competition/r17/

Back to Top
Snippets from around the web:

Stephen Howells on MathsMeet
Stephen Howells talks about the benefits of attending a TeachMeet or a MathsMeet.  He is an Academic Program Manager at Microsoft Ireland and has begun to love teaching his own children maths, however, as a child himself he "believed he couldn't do maths".  He was a speaker at the MathsMeet in March on the topic Micro:Bits. He says " a TeachMeet is my favourite way to upskill, presenting and learning at the wonderful TeachMeets organised by the indefatigable Mags Amond have really shaped my understanding of teachers and education in Ireland." To read more see here
https://www.linkedin.com/pulse/mathmeets-microbits-me-stephen-howell
Follow mathsmeets on twitter @mathsmeetIE or see https://twitter.com/mathsmeetie

Laurent Schwartz - maths anxiety
Since exams are soon approaching teachers need to question whether or not they themselves suffer from maths anxiety? If like French mathematician Laurent Schwartz you become anxious about maths what can you do? Perhaps you are wasting working memory and you could possibly be transferring this anxiety to your students. Check out how to address this issue as it appears 20% or more people suffer from maths anxiety.  Read more here
https://www.facebook.com/355409477856681/posts/1405020852895533

Why Singapore's kids are so good at maths?
The question that politicians, industry leaders and journalists keep asking. This article highlights what maths week has been delivering across the island for the past number of years. The importance of hands on learning in order to cultivate a culture of problem solvers.
In a speech to trade union activists on May Day last year, prime minister Lee Hsien Loong told citizens: "To survive, you have to be exceptional."
In Singapore aiming to move away from simple rote-learning and to focus instead on teaching children how to problem solve, the textbooks produced were influenced by educational psychologists such as the American Jerome Bruner, who posited that people learn in three stages: by using real objects, then pictures, and then through symbols. That theory contributed to Singapore's strong emphasis on modelling mathematical problems with visual aids; using coloured blocks to represent fractions or ratios, for example.
Furthermore, the Singapore model makes Maths and science core subjects, taught throughout primary and secondary education.
According to Andreas Schleicher, head of the OECD's education assessment programme "Mathematics in Singapore is not about knowing everything. It's about thinking like a mathematician".
See more here
https://www.facebook.com/355409477856681/posts/1405020852895533


Some April Birthdays
Statistician Roy Geary (1896-1983) was born 11 April in Dublin. After study at UCD and the Sorbonne, he had a long career in the Department of Industry and Commerce, before leading both the Central Statistics Office and the Economic and Social Research Institute. His name lives on in the Stone–Geary utility function, the Geary–Khamis dollar, and elsewhere.
Dionysius Lardner (1793-1859) was born 3 April in Dublin. He was educated at TCD and worked there as a chaplain while publishing mathematical articles.  For a few years he worked at the University of London as professor of physics and astronomy.  He is best remembered for the mammoth Cabinet Cyclopædia, a series of over 100 volumes, which he edited.

Mathematical physicist John T. Lewis (1932-2004) was born 15 April in Swansea. He was educated at QUB, taught at Oxford, and for 25 years he was director of the Dublin Institute of Advanced Studies. His areas of interest included quantum measurement, Bose–Einstein condensation and large deviations theory, and he supervised about 30 doctoral theses.


William Molyneux (1656-1698) was born 17 April in Dublin, and was educated at TCD. He abandoned a career in law and turned to mathematical and scientific endeavours.  His role in the 1684 founding of the Dublin Philosophical Society for the Improvement of Natural Knowledge, Mathematics and Mechanics is considered to have been very influential.

More about prominent Irish mathematicians past and present see here
http://www.mathsireland.ie
Coming Events

Many academic mathematics events are listed here
https://calendar.google.com/calendar/embed?src=mathdep.list@gmail.com&ctz=Europe/Dublin

April Junior Enrichment Classes
The Irish Mathematical Trust is currently seeking to roll out Junior Enrichment Classes (for 2nd and 3rd year students) and Maths Circles (for 1st year students) at locations outside the Cork region, where such activities have been established a while ago. These will complement their traditional Senior Enrichment Classes which have a 30 year tradition.
In order to get Maths Circles up and running in as many schools as possible, they have organised two workshops in Limerick (one for Primary school teachers and one for Post Primary school maths teachers). The feedback from the participants was very positive and encouraging.
The next workshops they have planned will take place during the first week of April. Details can be found here


April 6 Berkeley Lecture Maynooth University: The Taming of the Truth
The 2017 Berkeley Lecture will be given by Professor Volker Halbach, he is a German logician and philosopher and fellow of New College, Oxford. He is author of several articles and books including the Logic Manual, a textbook on undergraduate logic and different works on the axiomatic motivation of truth.
Thurs 6 April 6 pm Renehan Hall Maynooth University
More info here
https://www.maynoothuniversity.ie/mathematics-and-statistics/berkeley-lecture-2017



April 6  ISA Gosset lecture 2017
The Irish Statistics Association Gosset lecture 2017 will be delivered by the distinguished Professor David Hand OBE (Imperial College London) in the Royal Irish Academy, 19 Dawson St., Dublin on April 6th at 6:00pm.

The dangers of not seeing what isn't there: selection bias in statistical modelling.
In general, in statistics and data science, more is better in the sense that larger data sets mean that smaller effects can be detected and more confidence can be placed in any statistical conclusions.  But this is only true if we have confidence that the data represent the underlying reality fairly. All too often the available data have undergone unobserved selection or distortion processes, which can mean they are potentially misleading. This applies in human interactions - where it has been suggested that the notion that 'data=all' can replace the need for careful theorising and statistical modelling - but also in the hard sciences and medicine. This talk gives examples of such cases, showing how ignorance of selection mechanisms has led to mistakes and even disasters. These mechanisms are described, and strategies for tackling the problem are outlined. This event is run in partnership with the Irish Statistical Association. 
Please note tickets are required. These are available free of charge at eventbrite booking here


April 6-7 Layer Phenomenon Workshop will take place in NUIG
More info here

April 7-9 ISTA Conference Maynooth

For primary and secondary teachers
On the website  you will find details regarding workshops, lectures and keynote addresses.
ISTA Conference 2017 will cater for both secondary and primary teachers alike with both cross-curricular and sector-specific lectures provided
More info here

April 22 – 28 Tech Week
Organised by the Irish Computer Society, Tech Week is a festival of technology aimed at students, parents and the public. Activity pack and more info available from the website here

Each Tech Week Pack contains a bundle of fun and educational activities to help you inspire your class, group or organisation to celebrate Ireland's week-long technology festival.

May 4 Engineers Ireland Annual Conference
Engineers will focus on Flooding and Renewable Energy. More here. 

May 15-20 Conference on Applied Statistics in Ireland will take place in Mullingar. More info here
If you have any events or activities that you think would be of interest to the mathematics or maths education community, why not get in touch at mathsweek@wit.ie
Make sure you keep us updated on your events and activities throughout the Year. You can email us at mathsweek@wit.ie
You can find us on Twitter @mathsweek or Facebook.
Douglas Buchanan
March 2017
Five in five days
Last week saw a run of five maths challenges starting in London then to Great Malvern and the long journey to Newcastle for the final three. It was an honour to host a challenge in London's Guildhall on behalf of Christ's Hospital. Fifteen of their students travelled from Horsham to assist me with the marking and they excelled themselves not only with their prime task but also as ambassadors for the school.
Received an invitation to hold challenges in Nairobi in September!

Let's go Dutch: What is RME?
Realistic Mathematics Education was first created in Holland and it reflects real life tasks and detail and the maths they are covering in the classroom. I heard two teachers talking last week on my travels talking about the algebra work they are doing. I asked what context and examples you are putting forward to illustrate the importance of the mathematical work and they both said that had not thought of that. Their aim was to get the pupils to be proficient in solving simultaneous and did not consider putting them into real life situations.
There is a very good article and accompanying videos on this topic in the Mathematics Education Innovators website which can be found here.

This month's puzzle
The Baby's Weight
At the railway station (remember this puzzle is from a 1950s book) Mr Dobson thought he would weigh his baby. The dog was rather a nuisance, as he insisted on being included in the operation, and these are the curious results that were obtained.
Mr Dobson and the baby together weighed 162lb more than the dog, while the dog weighed 70% less than the baby. All three together weighed 180lb. What was the actual weight of the dear infant?

Creative thinking in maths classes
When does 1 + 1 = 24?
When does 7 + 60 = 8?
What two numbers equal 136 when you add them and equal 24 when you subtract them?

Time is up – resources of the month
This is one of the concepts which I think is overlooked at times and it is probably the most important in our lives. Websites which I have found which will make teaching easier and give material to tackle in the classroom and at home:
Transum – some unusual activities relating to time and there is access to a stop watch and an analogue clock face.
TES resources – you have to register but it is free and there is no direct advertising. Baking – problem solving with the baking of a cake.
Maths Games – Time Games – about ten interesting activities many online – ideal for homework.

Easter holiday work
To keep the mathematical brain ticking over during the Spring break encourage you pupils to try the Logic Problems in the website, Math Playground.
More April holiday work – Divergent thinking

Answers:
The Baby's Weight
30lb

Creative thinking solutions
Two dozen
7 o'clock plus 60 minutes
80 and 56
Can you and the pupils come up with any more ideas?


Finally …
Do enjoy the Easter break – when it arrives.

See more on Douglas' website http://www.dcbeagle.com/
Feed back or contact Douglas at douglas@dcbeagle.com


To Contact Maths Week with feedback or queries please email mathsweek@wit.ie

Back to Top